If you are caring for someone with a duodenal ulcer, you need to know that the pain they are experiencing is almost always a result of stomach acid. When stomach acid comes into contact with the ulcer or sore, pain can be severe. However, it's also important to note that the pain of duodenal ulcers follows a pattern. Become aware of the pain pattern and try to stop it for the person by becoming aware of treatment options.
Furthermore, know that complications can occur in someone with a duodenal ulcer. These include internal bleeding, penetration, perforation, and obstruction. If the person you are caring for has especially severe pain, blood in the vomit or stool, weight loss, or an appetite change, you should call their doctor.
Continue Learning about Digestive Health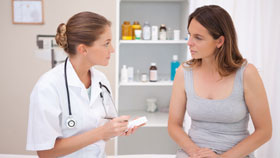 The digestive system includes all parts of the body that process food and expel waste, from your mouth to the end of your digestive tract. Diseases of the gastrointestinal tract prevent your body from effectively using the food yo...
u eat. Learn more about digestive health from our experts.
More