After you leave the transplant center at the hospital, you will see your doctor often to be sure your new liver is working well. You will have regular blood tests to check that your new liver is not being damaged by rejection, infections, or problems with blood vessels or bile ducts. You will need to avoid sick people and report any illnesses to your doctor. You will need to eat a healthy diet, exercise, and not drink alcohol, especially if alcohol was the cause of damage to your own liver. You should use medicines, including ones you can buy without a prescription, only if your doctor says they are safe for you. It is important to follow what your doctor says to take care of your new liver.
This answer is based on source information from The National Digestive Disease Information Clearinghouse (NDDIC).


After returning home, you will need to carefully adhere to your medication regimens, and to monitor vital signs including temperature, blood pressure, and weight on a daily basis. You will return to the hospital for frequent follow-up visits, blood work, and other testing.
Continue Learning about Digestive Health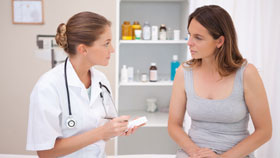 The digestive system includes all parts of the body that process food and expel waste, from your mouth to the end of your digestive tract. Diseases of the gastrointestinal tract prevent your body from effectively using the food yo...
u eat. Learn more about digestive health from our experts.
More