With the gallbladder gone, you'll still be able to make all the bile you need. Watch as Reese Davis, MD, a surgeon at St. Mark's Hospital describes how bile is produced without a gallbladder.
Fortunately, the gallbladder is an organ people can live without. Your liver produces enough bile to digest a normal diet. Once the gallbladder is removed, bile flows out of the liver through the hepatic ducts into the common bile duct and directly into the small intestine, instead of being stored in the gallbladder. Since now the bile flows into the small intestine more often, softer and more frequent stools can occur in about one percent of people. These changes are usually temporary, but talk with your health care provider if they persist.
This answer from the National Digestive Disease Information Clearinghouse (NDDIC)
Continue Learning about Digestive Health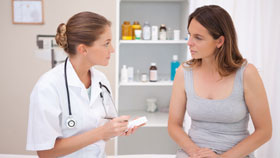 The digestive system includes all parts of the body that process food and expel waste, from your mouth to the end of your digestive tract. Diseases of the gastrointestinal tract prevent your body from effectively using the food yo...
u eat. Learn more about digestive health from our experts.
More