In some cases, you may be able to prevent an esophageal ulcer by making lifestyle changes. The following are a few of those changes:
Care for your GERD. Esophageal ulcers have been long associated with gastroesophageal reflux. However, there are many ways to prevent and treat GERD that might help you avoid getting an esophageal ulcer. For instance, you can avoid eating foods that cause reflux, raise the head of the bed to keep acid out of the esophagus at night, and take acid reducing or eliminating drugs.
Stop smoking. People who smoke are more likely to develop peptic ulcers; smoking increases stomach acid production.
Avoid nonsteroidal anti-inflammatory drugs. Although these drugs do not cause ulcers in most of the people who take them, they are associated with peptic ulcers. Talk to your doctor before stopping any necessary medications.
Continue Learning about Digestive Health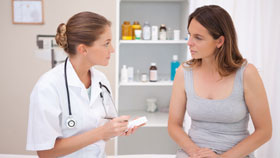 The digestive system includes all parts of the body that process food and expel waste, from your mouth to the end of your digestive tract. Diseases of the gastrointestinal tract prevent your body from effectively using the food yo...
u eat. Learn more about digestive health from our experts.
More