Yes. Gas in the digestive tract is created by gut bacteria when they consume leftover sugars and fibers from our food in a process called fermentation. That is actually a normal and healthy process. But the gas produced does distend the intestines (blows them up a little bit, like a balloon) until it is eventually passed. Most people don't even notice this process, but people with irritable bowel syndrome may experience this as a painful sensation or feel uncomfortably bloated.
Some people have pain when gas is present in the intestine. When pain is on the left side of the colon, it can be confused with heart disease, which sometimes causes abdominal pain. When the pain is on the right side of the colon, it may mimic gallstones or appendicitis.
This answer is based on the source infromation from the National Institute of Diabetes and Digestive and Kidney Diseases.
Continue Learning about Digestive Health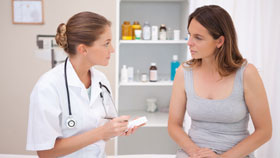 The digestive system includes all parts of the body that process food and expel waste, from your mouth to the end of your digestive tract. Diseases of the gastrointestinal tract prevent your body from effectively using the food yo...
u eat. Learn more about digestive health from our experts.
More