Neither antacids-such as Tums-nor milk can heal peptic ulcers, although each may make you feel better briefly. Check with your doctor before taking antacids or drinking milk while your ulcers are healing.
Some of the antibiotics used for Helicobacter pylori (H. pylori) infection may not work as well if you take antacids. And, while antacids may make ulcer pain go away for a while, they won't kill the H. pylori germ. Only antibiotics can do that.
Many people used to think that drinking milk helps peptic ulcers heal. But, doctors know now that while milk may make ulcers feel better briefly, it also increases stomach acid. Too much stomach acid makes ulcers worse.
This answer is based on source information from the National Institute of Diabetes and Digestive and Kidney Diseases.
Continue Learning about Digestive Health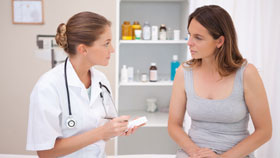 The digestive system includes all parts of the body that process food and expel waste, from your mouth to the end of your digestive tract. Diseases of the gastrointestinal tract prevent your body from effectively using the food yo...
u eat. Learn more about digestive health from our experts.
More