There are specific surgically related complications that can occur after gallbladder removal, like bleeding, infection, bile leak and common bile duct injury. The overall complication rate is very low, and the risk of ongoing pain or other complications from leaving your gallbladder in place are much higher. Some people experience loose stool or diarrhea after they have recovered from surgery, but this generally resolves in about 6 months.
Trinity Health is a Catholic healthcare organization that acts in accordance with the Catholic tradition and does not condone or support all practices covered in this site. In case of emergency call 911. This site is educational and not a substitute for professional medical advice; always seek the advice of a qualified healthcare provider.
Absolutely! Remember, the gallbladder is the organ where bile is stored that has been made in the liver. You need bile to emulsify and digest fats. When your gallbladder is removed, you no longer have a storage space for bile so fat maldigestion is very very comon. When you are not digesting and absorbing fats, it may cause an essential fatty acid deficiency. These fats are called essential as our bodies don't make them. We need to get them from an outside source.
Therefore, always always always take bile salts with meals if you have had your gallbaldder removed.
After gallbladder removal surgery, patients may have symptoms like abdominal pain, bloating, gas or diarrhea. Learn more from Ernest Digiovanni, DO, from Regional Medical Center Bayonet Point in this video.
According to Adam Lipkin, MD, in general surgery at Englewood Community Hospital, there is a short recovery period after a gallbladder extraction surgery. Learn more about any potential lifestyle changes in this video.
Diahrrea, gas and bloating are common after having surgery to remove the gallbladder, explains Charles Whiting, MD, Greenville Health System. Because there is no longer a gallbladder to store bile, it tends to drain into the intestinal track and cause these issues.
In most cases, there are no side effects from having the gallbladder removed, according to Matthew Couch, MD, in general surgery at St. Petersburg General Hospital. Learn more in this video.
Continue Learning about Digestive Health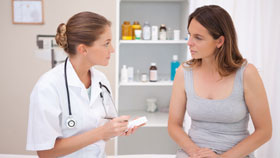 The digestive system includes all parts of the body that process food and expel waste, from your mouth to the end of your digestive tract. Diseases of the gastrointestinal tract prevent your body from effectively using the food yo...
u eat. Learn more about digestive health from our experts.
More