One problem with hydrogen breath testing is that it is not specific for fructose malabsorption. There are other reasons why your test could be positive for hydrogen in your breath, including invasion of the small intestine by bacteria normally only present in the colon (this is called small intestine bacterial overgrowth, or SIBO).

There are several additional reasons that the test could fail to give a positive result even if you do have fructose malabsorption. Diarrhea or active bowel disease can interfere with the outcome of the test. The dose of fructose given (usually 25 grams) may not be high enough to provoke symptoms in some individuals. In research settings, up to 50 grams of fructose may be given to measure fructose malabsorption. If an individual is a methane producer, and the lab does not analyze breath samples for methane, the test could fail to give a positive result.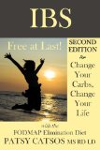 Continue Learning about Digestive Diseases
Digestive diseases, also known as gastrointestinal diseases, are disorders that affect your esophagus, stomach and small and large intestines. The symptoms of digestive diseases vary widely depending on which part of your digestiv...
e system is affected. Generally symptoms can be blood in your stool, a change in bowel habits, pain, weight loss or heartburn that is not relieved by antacids. See you doctor if you have any of these signs of digestive disease.
More