ROME II diagnostic criteria specify that the functional gut syndrome be present for at least 12 weeks, which need not be consecutive, in the preceding 12 months. The purpose for this is to separate these chronic conditions from transient and temporary gut symptoms, such as may occur with emotional distress or infection. The exception is functional abdominal pain syndrome (FAPS), in which the diagnostic criteria must have been present for at least six months. FAPS involves continuous or nearly continuous abdominal pain.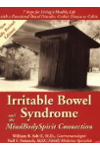 Continue Learning about Digestive Diseases
Digestive diseases, also known as gastrointestinal diseases, are disorders that affect your esophagus, stomach and small and large intestines. The symptoms of digestive diseases vary widely depending on which part of your digestiv...
e system is affected. Generally symptoms can be blood in your stool, a change in bowel habits, pain, weight loss or heartburn that is not relieved by antacids. See you doctor if you have any of these signs of digestive disease.
More