All the cells of the body together form a vast network in which all types of information, including information about feelings, is circulated. This network allows organs from different systems -- for example, the heart from the circulatory system and the liver from the digestive system -- to influence and affect one another. Messages (and symptoms) coming from one location in your body can reach organs and cells in virtually any other part of your body, like a cell phone that actually works from wherever you happen to be! The existence of this communications network explains how thoughts and feelings can affect virtually every bodily organ. These thoughts and feelings can have a negative or positive effect. For example, a fight with your spouse may increase your abdominal cramping and diarrhea, whereas feelings of hope may actually reduce your abdominal pain.

The system works in reverse as well. Pain that originates in the body can affect your mood and behavior. For example, if you develop a sudden and severe abdominal cramp and the urge to go to the bathroom when you are out shopping, considerable anxiety and fear are generated. The body is upsetting the mind.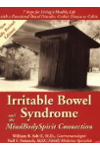 Continue Learning about Digestive Diseases
Digestive diseases, also known as gastrointestinal diseases, are disorders that affect your esophagus, stomach and small and large intestines. The symptoms of digestive diseases vary widely depending on which part of your digestiv...
e system is affected. Generally symptoms can be blood in your stool, a change in bowel habits, pain, weight loss or heartburn that is not relieved by antacids. See you doctor if you have any of these signs of digestive disease.
More