A medical study by Dr. Robert Sandler and colleagues from the University of North Carolina confirms that forty percent of the people in the study have at least one digestive symptom, such as abdominal pain, diarrhea, or constipation every month. Most people rated their symptoms as moderate to severe in intensity and reported that they caused some limitations in their daily activities.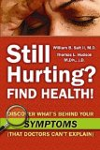 Continue Learning about Digestive Diseases
Digestive diseases, also known as gastrointestinal diseases, are disorders that affect your esophagus, stomach and small and large intestines. The symptoms of digestive diseases vary widely depending on which part of your digestiv...
e system is affected. Generally symptoms can be blood in your stool, a change in bowel habits, pain, weight loss or heartburn that is not relieved by antacids. See you doctor if you have any of these signs of digestive disease.
More