Cutting calories is hard enough in your own kitchen, let alone at your favorite restaurant or bakery. If you are heading out more times than not, you may want to follow some restaurant rules, especially if the food comes out on a platter big enough to surf on. Before you eat any meal, at home or out, have 6 walnut halves or 12 almonds. The heart-healthy fat, fiber, and protein will help you feel fuller faster so you don't overeat.

Once you get to the restaurant, if they have the nutritional info listed on the menu, select the low-calorie option. You can also split the entrée with your dining partner or have the waiter box up half in a doggie bag. But do this before you dig in.

Pass on the breadbasket (you can ask for 100% whole-grain bread or raw veggies instead), get the sauce on the side, and limit alcohol and sugary beverages. They add a lot of extra calories. And avoid hitting the fast-food lane like it's the plague.
As long as the restaurant is one which offers healthy options, what works for me is ordering "my way" rather than directly off the menu. Some of the items I order often are salads with hard boiled eggs, no dressing, no cheese, lean proteins with steamed veggies and most always the portion served becomes two meals for me. I eat half and take half home.
When eating out pay special attention to how food is prepared. You want to select foods baked, braised, broiled, roasted, steamed, and stir-fried. Stay away from ordering foods with the following descriptions: au gratin, alfredo, creamed, breaded, deep fried and double crust.
Also remember that by eating slowly and paying full attention to your food experience, it will help you lower your calorie consumption.
You can have a salad without cheeses or meats on it and have your dressing either on the side or ask for oil and vinegar dressing only. Stay away from bread and butter. Ask for the protein to be broiled with a side of vegetables, and no starch for lowest calories.
One thing about eating out, keep in mind someone else is seasoning the food and sodium content may be higher than it should be.

Foods high in sodium will sabotage a weight loss program.
Here are some ways to lower the calories from your order in a restaurant:

1. Learn to say, "on the side, please."

2. When you order toast, ask for butter on the side. You'll use less than if the kitchen butters it.

3. Order sandwiches without mayo, tartar sauce, or "special sauces." Ask for packets instead, then use a small amount.

4. Dip your fork into the sauce, then spear the food.

5. If your "on the side" request yields a large amount of dressing, gravy, or sauce, use two tablespoons only.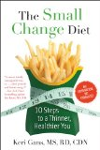 Savvy ordering is key to cutting calories when you eat out. Find out how to peruse and choose from a restaurant menu by watching this video featuring nutritionist Kate Geagan.
When eating out, look for lower-calorie choices, such as foods that are steamed, broiled, baked, roasted or poached rather than fried. Skip the butter and cream sauces. One good strategy is to start a meal with a broth-based soup, which can fill you up with fewer calories, so you're not so hungry when the main entrée arrives. Consider portion sizes, too. Even a "healthy" choice can pack on the calories if you eat a large portion of it. You may want to ask your waiter to save half your plate (in a take-home container) even before you start eating.
According to the National Restaurant Association, almost half of all adults eat in or carry out food from a restaurant every day. Dining out does not have to sabotage a healthy lifestyle. However, what you choose to eat can greatly affect the nutritional quality of your meal. Your overall objectives are to reduce fat, calories, and sodium, and add fiber. Here are some specific tactics to try:
Eliminate high fat sauces and dressings, or order on the side and use sparingly:
Mayonnaise: 2 tbsp. = 194 calories, 21g fat
Tartar Sauce: 134 calories, 14g fat per serving
Cheese: processed American, 100 calories, 7g fat per slice
Salad dressing: 2 oz. olive oil and vinegar= 310 calories, 33g fat
Choose grilled or broiled versions of foods, rather than fried
When ordering pizza, opt for vegetable toppings and a thin crust. Ask for whole-wheat crust for extra fiber
Whenever possible, order a salad, and fill up on vegetables, fruit, and beans
Go easy on processed meats such as bacon, pepperoni, and sausage
Try the leaner beef versions of your favorite sandwiches
Avoid super-sizing and value meals
Order whole-grain versions of bread whenever available
Use baked potatoes as a side dish without elaborate toppings
Reduce calories by choosing juice or low fat milk instead of soft drinks or milk shakes.
It's easy to overdo it when eating out -- but a few tricks can make it easy to rein in your appetite. In this video, registered dietician Frances Largeman-Roth shares tips and tricks for keeping your calories in check.
There are a number of things you can do to limit your caloric intake while enjoying a meal out. First of all, you can preview the nutritional information ahead of time online. A large number of restaurants are providing this information making it easier to choose healthy options when eating out. Pick a healthier menu item and stick to it. There is no need to view the menu and be tempted by other options. Second, you should choose menu items that are grilled or steamed, not fried or sautéed. Ask you server if they can steam your vegetables instead of sauté them in butter and oil. Stick to lean protein such as grilled chicken breast, pork tenderloin, fish, beef tenderloin or sirloin. Third, let your server know you want to pass on the bread basket or chips provided before the meal. This can lead to eating a large number of unintended calories before your meal arrives which is what you are trying to avoid. Order a side salad or fresh veggies and hummus as an appetizer instead. Fourth, you can choose a healthy vegetable option instead of French fries or mashed potatoes. If you would like to stick to a potato option, try a plain sweet potato. It is best to add as many non-starchy vegetables to your plate to fill you up and reduce the number of calories consumed. As for dessert, share with others at the table or order fresh fruit. Many restaurants also offer small dessert options for those that need a little something sweet. The list goes on, but the important thing to remember is to fill your plate with healthy vegetables, limit your protein portion to the size of a deck of cards, and watch the carbohydrates.
First have a plan. If you have a plan before you set foot in a restaurant you, you will be more likely to consume less calories. Never go to a restaurant starving because you will lose control and get off to a bad start. If you do go really hungry, ask the waitperson to bring you a small salad or raw vegetables right away. Tell them no rolls or butter. Once you finish the salad then look at the menu. Always think about what you have already eaten during the day. If you have already eaten lots of carbs, eat more protein and vegetables.
It helps to know early on in the day if you are going out so you can save room for foods you like. Avoid fried foods, cream based soups, buttered vegetables, and desserts. Stick with grilled proteins, salads, sushi, vegetarian entrees, whole grains, and fresh fruits. You can always take some of the meal home and eat it the next day. Concentrate on being full but not stuffed. Always ask yourself if you have had enough before you eat the entire plateful. Never lose sight of your long-term weight goals when eating out.
Continue Learning about Dieting For Weight Loss