The beautiful thing about eating whole foods is that you're giving your body what it needs to thrive. This means that you can listen to and trust your body's messages, especially when you respond to those messages with whole foods.

If your body's telling you that you're still hungry, then you're still missing something. Ignoring that message and depriving yourself is only going to trigger a stress response. Ironically, this response increases cortisol and insulin production, telling your body to store more fat -- the opposite result of what most people are looking for. Listening to your body and feeding it with nutrient-dense, whole foods truly nourishes your body, satisfies you, and helps you avoid the downward spiral of deprivation that causes most diets to fail.

Your body knows what it needs to be healthy. When you eat mostly whole foods, your body will find its natural equilibrium and you won't be tempted to overeat. Your cravings will diminish and you won't feel deprived or starved -- you will be deeply nourished. When you're truly nourished, your body can find its natural, optimal health and the pounds you want to lose will go away of their own accord, without dieting.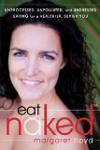 Whole foods give you volume, which is ideal for weight loss. The also supply you with more fiber. With whole foods you will fuel your body with more nutrients, which will leave you feeling more satisfied.
The recommendation I always give to my clients in my Eating Free program is to eat whole foods.
Also, always remember to combine protein and carbohydrates at every meal.
Here is a great video that demonstrates a day of meals made with whole foods: http://youtu.be/RwL3trtNDsE
Whole foods are full of fiber and are nutrient dense. This means they keep you full and well nourished. When you eat whole foods, they break down slower and keep your blood sugar more stable leading to fewer cravings. Whole foods take more time to shop for and to prepare. The more involved you are in food shopping and preparation, the more aware you will be of what foods you eat. The more aware you are will determine your level of success. Awareness increases consciousness and this leads to focus and commitment which are the crucial elements in long term weight loss and weight maintenance.
Processed, fatty foods may be delicious, but they're nutritional boobytraps. In this video, fitness expert Tony Horton, creator of the P90X fitness program, explains how whole foods can help you lose weight without counting a single calorie.
Continue Learning about Dieting For Weight Loss