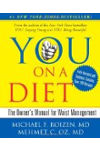 Eating out can be a great experience—for everyone except your gut. With Rushmore-size portions and dietary disasters in every plate, basket, and spoonful, restaurants are dangerous places. You should know that most dietary mistakes are made within the first and last 10 minutes of any restaurant experience. Some tips for book-ending your meal the right way:
Return the free bread and ask if you can have cut-up raw vegetables instead. (Do this four times in a three-week period and I've found most good restaurants learn the trick and automatically make that change every time they see you—if they see you at least once a week).
Order oil and vinegar in separate containers and on the side for salad dressing, and put a little on (you have to do this; relying on the wait staff or chef to do so gets you about 400 extra calories per side salad).
If you're going to have dessert, order one for the table and have a few bites.