Here is a list of many unhealthy pleasure foods that can keep you struggling with your health and weight:
Foods made with sugar and/or chocolate: Bakery goods, ice cream, candy, chocolates, soft drinks, milkshakes
Salty fried foods: Potato chips, French fries
Salty foods: Pretzels, popcorn
Starchy foods: Pancakes, waffles, bread
Salty fatty foods: Butter, cheese, nuts, hotdogs
Fatty starchy foods: Pizza, quesadillas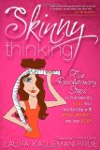 Today we are warned about forbidden foods that should be eliminated from our diet if we want to lose weight. But many are actually incredibly healthy for us.
Bread, pasta, and potatoes are excellent sources of complex carbs that your brain needs to produce serotonin, which prevents cravings and hunger.
Peanut butter is rich in healthy fats that keep us full longer, promoting calorie burn.
Fruit, lately known as the "forbidden fruit," soothes our sweet tooth naturally. It's high in fiber and low in calories, and contains natural sugar fructose but won't raise your blood sugar levels like table sugar if eaten in moderation
Dark chocolate, 70% cocoa and higher, satisfies chocoholic cravings and prevents bingeing. Studies show that those avoiding chocolate ended up eating two-thirds more than those told to eat in moderation
So go ahead and eat from the forbidden tree to stay healthy and satisfied.
Based on the First Law of Thermodynamics there are no "fattening" or "fat burning" foods. This means that ALL foods can be incorporated into a meal plan. Some foods would act as staples, others as occasional and yet others as rarities. No food (barring any medical necessity) should be forbidden. You can eat anything that you want to. You just cannot eat everything that you want, whenever you want. With this said, there are no fattening foods but there are Healthy and UNHealthy foods.
I categorize foods into:
Calorically cheap foods that are unhealthy
Low calorie (LITE) Snacks
Most 100 Calorie Treats
Low Sugar Fruit Juices
Lite Spreads
Most Granola Bars
Calorically cheap foods that are healthy
Lite breads (whole/Multi grain, High Fiber, High Pro)
Sweet Potatoes/Yams, Brown Rice, Oatmeal/ Oat Bread
Whole Wheat pasta
Sauces – Marinara, Fra Diavolo, Tomato
Chicken (skinless breast)
Low fat/salt ham, Turkey (fresh roast)
Low fat cheeses (cottage)
Eye round roast beef, Buffalo (ground or steak), Ostrich
Pork tenderloin and center-cut boneless chops
Cod, Pollack, Haddock, Orange Ruffy, Tilapia
Calorically expensive foods that are healthy
Nuts (all types), Olive Oil, Avocados
2% cottage cheese
Salmon (omega 3's)
Dried Fruit
Calorically expensive and unhealthy foods to avoid
Baked goods such as cookies, crackers, cakes, etc.
Margarine or partially hydrogenated oils
Fried/sautéed foods
90% or below Ground Meat or when ordered out
Cream soups/sauces (white or pink)
Sauce – Puttanesca, Marsala, Piccata
Pastry products/cakes
Most Deli Meats - Salami, bologna, pepperoni, etc.
Mayonnaise based salads
If you eat more of the Calorically Cheap and Healthy Foods and Less of the Calorically Expensive Foods that Are Unhealthy you will be well on your way to success.
Adapted from 90 Days to a New You.
Continue Learning about Dieting For Weight Loss