Yogurt containing live active cultures has been demonstrated to help maintain the normal intestinal micro flora balance and suppress harmful bacteria in the intestine. Yogurt can aid in the treatment and prevention of antibiotic associated diarrhea, traveler's diarrhea, and acute diarrhea in children.

Lactobacillus acidophilus has been shown to protect against stomach ulcers by suppressing the growth of Helicobacter pylori, a known ulcer-causing bacterium.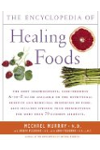 More About this Book
Encyclopedia of Healing Foods
From the bestselling authors of The Encyclopedia of Natural Medicine, the most comprehensive and practical guide available to the nutritional benefits and medicinal properties of virtually everything...
Continue Learning about Dietary Supplements