A number of studies have demonstrated that intake of yogurt enhances lactose digestion in individuals with low intestinal levels of lactase, the enzyme necessary to digest lactose. The lower lactose content of some cultured dairy foods compared to that of milk may contribute to the beneficial effect of these foods for individuals who have difficulty digesting lactose. The beneficial effect may also be explained by the ability of the starter cultures used in the manufacture of yogurt with live, active cultures to produce the enzyme lactase, which digests the lactose in yogurt.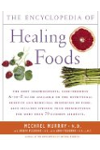 More About this Book
Encyclopedia of Healing Foods
From the bestselling authors of The Encyclopedia of Natural Medicine, the most comprehensive and practical guide available to the nutritional benefits and medicinal properties of virtually everything...
Continue Learning about Dietary Supplements