Both water and food are essential for life. The safety of our food and water supply are critical for our physical and environmental health. When food or water become contaminated with bacteria, viruses, pesticides, or other chemicals, we may get sick and crops may suffer. The Environmental Protection Agency (www.epa.gov) works hard to assure that products used in farming are safe for the environment and are used responsibly.
There are a few steps you can take in your own home to help assure the food and water you or your family is consuming is safe.
Use a water filter to filter drinking water from the tap.
Always rinse fruits and vegetables thoroughly under running water before eating. Use a vegetable scrubber to remove any visible dirt.
Always wash your hands before during and after handling food.
Keep ready to eat foods separate from raw food or meats by using separate cutting boards and utensils.
Keep cold foods cold. Your refrigerator temperature should be between 32-40 degrees Fahrenheit.
Keep hot foods hot. Cook meats to proper temperatures and heat leftovers to 160 degrees F. Use a food thermometer to help you know when foods are cooked properly.
The Academy of Nutrition and Dietetics and Con Agra foods have partnered to bring you a great web site: www.homefoodsafety.org. There you will find valuable resources to help you keep foods in your home safe and keep you healthy.
Consumers are extremely concerned about the safety of the food they eat and the water they drink. In addition to fear of deadly bacteria such as E. coli, they are concerned about the effects that food additives, pesticides, pollutants, food irradiation, and genetically modified foods have on their bodies. There is much evidence to support that these food issues have the potential to not only harm our health, but also alter the composition of the foods we eat in ways that may not be beneficial to us, or the environment.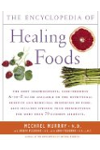 More About this Book
Encyclopedia of Healing Foods
From the bestselling authors of The Encyclopedia of Natural Medicine, the most comprehensive and practical guide available to the nutritional benefits and medicinal properties of virtually everything...
Continue Learning about Dietary Supplements
Whether you're visiting the drug store, grocery or natural food shop you'll likely find an aisle where there are jars and bottles of things for you to put in your body that are neither foods nor medicines. Ranging from vitamins an...
d minerals to fiber and herbal remedies, these supplements are not regulated in the same way as either food or medicine. Some of them are backed by solid research, others are folk remedies or proprietary cures. If your diet does not include enough of certain vitamins or minerals, a supplement may be a good idea. Natural treatment for conditions like constipation may be effective. But because these substances are unregulated, it is always a good idea to educate yourself about the products and to use common sense when taking them. This is even more true if you are pregnant or taking a medicine that may be affected by supplements.
More