One of the key reasons why wheat is best suited for bread making in comparison to other grains is its high gluten content. Gluten is composed of the two proteins gliadin and glutenin, which are found in many grains but are found in greatest quantity in wheat, followed by rye (a distant second), oats, and barley. Gluten gives wheat flour elasticity and strength and allows breads to "rise." After kneading, gluten traps the carbon dioxide produced by the yeast or other chemical leavening agent, resulting in the expansion, or "rising," of the dough.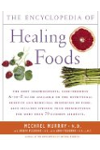 More About this Book
Encyclopedia of Healing Foods
From the bestselling authors of The Encyclopedia of Natural Medicine, the most comprehensive and practical guide available to the nutritional benefits and medicinal properties of virtually everything...
Continue Learning about Dietary Supplements