While hundreds of herbs and supplements have been purported to help you lose weight, many of them have not been studied well enough to support those claims and are not regulated by the FDA. Safety can be an issue -- as was the case with ephedra, which helped people lose weight through adrenaline-like action, but put people at risk of heart attacks. Here are some common herbal remedies and why they may not be all they're supposed to be, which is why you shouldn't put your weight-loss faith in any of them:
Calcium: It's been touted as an ingredient that speeds weight loss. Studies have shown that those with low calcium are more likely to gain weight and be overweight. But the people who lost weight with increased calcium were also on short-term, calorie-restricted diets, so the weight loss was more predictable than an Oscar winner's speech.
Bitter orange: It's been shown to decrease weight, but has the same side effects as ephedra, such as increasing heart rate and blood pressure.
Chitosan: It's extracted from the shells of shellfish, and the theory is that it works a little like some weight-loss drugs, by blocking fat absorption in your body. But studies show that it doesn't lead to weight loss.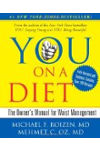 Continue Learning about Dietary Supplements