Sour cream or cultured sour cream results from the culturing of pasteurized cream with Streptococcus lactis until the acidity is at least 0.5 percent, calculated as lactic acid. Rennet extract also may be added in small quantities to produce a thicker-bodied product. Cultured sour cream must contain not less than 18 percent milk fat (unless nutritive sweeteners are added, in which case not less than 14.4 percent milk fat must be present). Sour cream is white, thick enough to be spooned out of a container, and has a sharp, sour flavor.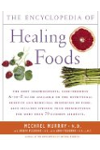 More About this Book
Encyclopedia of Healing Foods
From the bestselling authors of The Encyclopedia of Natural Medicine, the most comprehensive and practical guide available to the nutritional benefits and medicinal properties of virtually everything...
Continue Learning about Dietary Supplements