Mushrooms are highly beneficial, especially for breast cancer prevention. Mushrooms support the immune system by enhancing the activity of several types of immune cells. Mushrooms are unique in their breast cancer preventing effects. Frequent consumption of mushrooms, even just one button mushroom per day, has been linked to considerable decreases in the risk of breast cancer (64%). Mushrooms are thought to protect against breast cancer particularly because they inhibit an enzyme called aromatase, which produces estrogen. Mushrooms are one of the very few foods that inhibit aromatase (pomegranate is another), and several varieties of mushrooms, especially the commonly eaten white button and portobello mushrooms, have strong anti-aromatase activity.

Mushrooms protect against all cancers, not just breast cancer. In addition to anti-aromatase activity, white, cremini, portobello, oyster, maitake, and reishi mushrooms have all been shown to have a wide variety of anti-cancer properties.

Make sure to only eat mushrooms cooked, since several types of culinary mushrooms contain a potential carcinogen called agaritine, which is greatly reduced by cooking.
Mushrooms are a great source of selenium, an antioxidant that has been shown to help reduce harmful free radicals in the body. A build up of free radicals can lead to heart disease, cancer and diabetes. Add mushrooms to eggs, salads, whole-wheat pizza, and make a portabella mushroom sandwich in place of a beef burger for less fat and calories.
Shiitake, maitake, and reishi mushrooms are typically excellent sources of selenium and polysaccharides and very good sources of iron. They are also good sources of protein, dietary fiber, and vitamin C.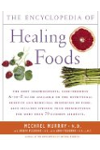 More About this Book
Encyclopedia of Healing Foods
From the bestselling authors of The Encyclopedia of Natural Medicine, the most comprehensive and practical guide available to the nutritional benefits and medicinal properties of virtually everything...
Continue Learning about Dietary Supplements
Whether you're visiting the drug store, grocery or natural food shop you'll likely find an aisle where there are jars and bottles of things for you to put in your body that are neither foods nor medicines. Ranging from vitamins an...
d minerals to fiber and herbal remedies, these supplements are not regulated in the same way as either food or medicine. Some of them are backed by solid research, others are folk remedies or proprietary cures. If your diet does not include enough of certain vitamins or minerals, a supplement may be a good idea. Natural treatment for conditions like constipation may be effective. But because these substances are unregulated, it is always a good idea to educate yourself about the products and to use common sense when taking them. This is even more true if you are pregnant or taking a medicine that may be affected by supplements.
More