The phrase "ice cream" has a variety of meanings from one country to another. Phrases such as "frozen custard," "frozen yogurt," "sorbet," "gelato" and others are used to distinguish different varieties and styles. In the United States, the phrase "ice cream" applies only to a specific variety. American ice cream is a frozen dessert made from dairy products, such as milk and cream, and often combined with fruits or other ingredients and flavors. Ice cream contains sugar, although some are made with other sweeteners. The mixture of chosen ingredients is stirred slowly while cooling, in order to incorporate air and to prevent large ice crystals from forming. The result is a smooth textured semi-solid foam that is malleable and can be scooped.
Ice cream is a frozen food made from a mixture of milk, cream, and nonfat milk combined with sweetening agents, flavorings, fruits, nuts, stabilizers, emulsifiers, and other ingredients. Fed-earl standards require that ice creams contain a minimum of 10 percent milk fat and 20 percent total milk solids by weight. French ice cream or frozen custard contains least 1.4 percent egg yolk solids.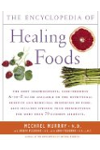 More About this Book
Encyclopedia of Healing Foods
From the bestselling authors of The Encyclopedia of Natural Medicine, the most comprehensive and practical guide available to the nutritional benefits and medicinal properties of virtually everything...
Continue Learning about Dietary Supplements
Whether you're visiting the drug store, grocery or natural food shop you'll likely find an aisle where there are jars and bottles of things for you to put in your body that are neither foods nor medicines. Ranging from vitamins an...
d minerals to fiber and herbal remedies, these supplements are not regulated in the same way as either food or medicine. Some of them are backed by solid research, others are folk remedies or proprietary cures. If your diet does not include enough of certain vitamins or minerals, a supplement may be a good idea. Natural treatment for conditions like constipation may be effective. But because these substances are unregulated, it is always a good idea to educate yourself about the products and to use common sense when taking them. This is even more true if you are pregnant or taking a medicine that may be affected by supplements.
More