In ancient times, as the population of a village grew, so did its dependence on grains. Today, as we experience a global population explosion, our dependence upon grains as food is greater than ever. Throughout history, improvements in farming techniques and the development of improved hybrids (crossbreeds) of specific grains have led to better crop yields. However, since there is not much farmland left, there is an ever-growing need for even better utilization of farmland to feed the world's population. The Green Revolution refers to recent breakthroughs in agriculture that have the potential to double or triple the supply of grains and other foods for the world's expanding population and, more immediately, the developing countries of the world. We are in the midst of this Green Revolution.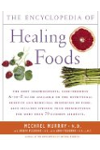 More About this Book
Encyclopedia of Healing Foods
From the bestselling authors of The Encyclopedia of Natural Medicine, the most comprehensive and practical guide available to the nutritional benefits and medicinal properties of virtually everything...
Continue Learning about Dietary Supplements