Clarified butter, also known as ghee, is butter that has had the moisture boiled off over a heat source. This conversion process leads the butter's long-chain fatty acids to become short-chain fatty acids, which is of tremendous significance in regards to how the body responds to its consumption.

Clarified butter is a staple of the Ayurvedic way of living and has been for centuries. The modified form of clarified butter is much more easily absorbable than regular butter, and as such is less likely to lead to health problems like heart failure when consumed. Rather than compromise the body's health, it actually helps to lubricate the joints, keep the elimination system regular, and generally nourish the body. Clarified butter can also be used medicinally to nourish the eyes, ears, nose, and skin.
Clarified butter, or ghee, can be obtained by melting butter and separating the nonfat ingredients (water, proteins, and carbohydrates) in the upper layer of foam and the whitish bottom layer from the yellowish middle layer of fat (clarified butter). Compared to regular butter, clarified butter can be heated to a higher temperature without burning and has a longer storage life. However, clarified butter lacks the characteristic buttery flavor of butter. The color of clarified butter is golden yellow, and it has a nutty flavor.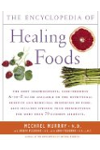 More About this Book
Encyclopedia of Healing Foods
From the bestselling authors of The Encyclopedia of Natural Medicine, the most comprehensive and practical guide available to the nutritional benefits and medicinal properties of virtually everything...
Continue Learning about Dietary Supplements
Whether you're visiting the drug store, grocery or natural food shop you'll likely find an aisle where there are jars and bottles of things for you to put in your body that are neither foods nor medicines. Ranging from vitamins an...
d minerals to fiber and herbal remedies, these supplements are not regulated in the same way as either food or medicine. Some of them are backed by solid research, others are folk remedies or proprietary cures. If your diet does not include enough of certain vitamins or minerals, a supplement may be a good idea. Natural treatment for conditions like constipation may be effective. But because these substances are unregulated, it is always a good idea to educate yourself about the products and to use common sense when taking them. This is even more true if you are pregnant or taking a medicine that may be affected by supplements.
More