Wheat has been the most important grain throughout history. Thought to have originated in southwestern Asia, it has been consumed as a food for more than 10,000 years. First cultivated in the Fertile Crescent and later in Egypt, wheat was a decisive factor in the development of civilization.

In fact, the reverence in which wheat was held is noted in almost every major culture. For example, in Western culture, the Lord's Prayer symbolizes the importance of wheat and bread with the line "Give us this day our daily bread." Wheat is not native to the Western Hemisphere and was introduced here only in the late fifteenth century, when Columbus came to the New World. Though wheat was grown in the United States during the early colonial years, it was not until the late nineteenth century that wheat cultivation flourished, owing to the importation of an especially hardy strain of wheat known as Turkey red wheat, which was brought over by Russian immigrants who settled in Kansas.

Wheat accounts for the largest cropland area of any food, with more than 22 percent of all available cropland in the world devoted to growing wheat. The major wheat-producing countries in the world, in order, are the Russian Federation, the United States, China, and India. The leading wheat-producing states in the United States are Kansas, North Dakota, Oklahoma, Texas, Washington, and Montana.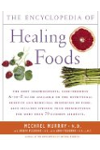 More About this Book
Encyclopedia of Healing Foods
From the bestselling authors of The Encyclopedia of Natural Medicine, the most comprehensive and practical guide available to the nutritional benefits and medicinal properties of virtually everything...
Continue Learning about Dietary Supplements
Whether you're visiting the drug store, grocery or natural food shop you'll likely find an aisle where there are jars and bottles of things for you to put in your body that are neither foods nor medicines. Ranging from vitamins an...
d minerals to fiber and herbal remedies, these supplements are not regulated in the same way as either food or medicine. Some of them are backed by solid research, others are folk remedies or proprietary cures. If your diet does not include enough of certain vitamins or minerals, a supplement may be a good idea. Natural treatment for conditions like constipation may be effective. But because these substances are unregulated, it is always a good idea to educate yourself about the products and to use common sense when taking them. This is even more true if you are pregnant or taking a medicine that may be affected by supplements.
More