Rice was first cultivated in China around 7000 B.C.E. Chinese myth tells us rice was a gift to humans from animals: A large flood had wiped out food production. The people, who were afraid they would starve, observed animals with seeds of rice on their mouths. These were planted, and scores of people were saved.

Rice was the secret of Asia for many years. Only later did travelers introduce rice into ancient Greece, and when Alexander the Great brought it to India, rice finally found its way to other corners of the world. Moorish conquerors took rice to Spain in the 700s, and the Crusaders were responsible for bringing rice back to France. Rice was introduced into South America in the seventeenth century by the Spanish during their colonization of the New World. It was taken to West Africa by the end of the 1600s, and slaves introduced rice to South Carolina in the middle 1700s. Contrary to popular thought, rice does not have to grow in water. The reason rice fields or paddies are flooded is actually to control weeds and insects and to increase productivity. Thailand, Vietnam, and China are the three greatest producers and exporters of rice. The United States is responsible for about only 1 percent of the world's total rice production.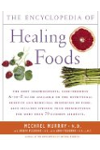 More About this Book
Encyclopedia of Healing Foods
From the bestselling authors of The Encyclopedia of Natural Medicine, the most comprehensive and practical guide available to the nutritional benefits and medicinal properties of virtually everything...
Continue Learning about Dietary Supplements