More and more we're hearing about prebiotics, which are defined as non-digestible food ingredients that stimulate the growth and/or activity of healthy bacteria in the digestive system. It helps to think of prebiotics as precursors to healthy bacteria -- they provide raw materials that the good bacteria prefer to have available in order to thrive. Typically, prebiotics are carbohydrates but they may include noncarbohydrates. The most prevalent forms of prebiotics are nutritionally classed as soluble fiber. Many forms of dietary fiber exhibit some level of prebiotic effect. Examples of foods containing prebiotics include raw chicory root, raw Jerusalem artichoke, raw garlic, raw leeks, raw onions, raw asparagus, raw wheat bran, cooked whole-wheat flour, and raw banana.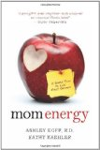 More About this Book
Mom Energy: A Simple Plan to Live Fully Charged
       From celebrated dietitian Ashley Koff and fitness trainer to the stars Kathy Kaehler comes Mom Energy, an exciting new way for moms to tap into their own natural and renewable sources of...
Some fermentable oligo-, di- and mono-saccharides and polyols (FODMAPS) are specifically added to foods to stimulate fermentation by so-called good bacteria and production of short chain fatty acids. These additives are sometimes termed prebiotics, and include inulin and fructo-oligosaccharides (FOS). These additives may increase symptoms due to fermentation in some individuals. (The term prebiotic is distinct from the term probiotic. Probiotics are the "good bacteria" that are sometime deliberately ingested for purported health benefits. Prebiotics are preferred carbohydrate foods for those good bacteria. Some supplements and foods contain both to stimulate increased activity of the good bacteria.)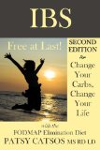 You may be familiar with probiotics, microorganisms that are introduced into the body for their beneficial qualities. Yogurt is a key source of probiotics (so is cheese, wine, tempeh, kimchi and fermented vegetables) and often recommended to help with a variety of gastrointestinal issues. Prebiotics are non-digestible food ingredients that help to promote the growth of beneficial microorganisms in the intestine. Garlic, onions and leeks as well as Jerusalem artichokes are good sources of prebiotics.

A study in the British Journal Nutrition suggests that prebiotics may help to modulate the specific gut microbes that are often found in people struggling with obesity. These microbes are believed to contribute to the risk of becoming obese. Modifying these microbes, through the food they consume, may help to limit the negative impact they have on gene expression of obesity; specifically on the risk of developing metabolic syndrome, a cluster of risk factors, that is associated with heart disease. So by choosing to eat foods rich in prebiotics, a person may be able to literally change their risk profile for obesity. If they are already overweight or obese, then prebiotics may help with weight loss.

The bottom line: Consider feeding your family foods rich in prebiotics and probiotics. This kind of attention to health-supportive nutrition supports wellness and may help to control obesity issues.
Continue Learning about Dietary Supplements