Hemicelluloses, such as those found in oat bran, also promote regular bowel movements by increasing hydration of the stool. Hemicelluloses also directly bind cholesterol in the gut, preventing cholesterol absorption. Bacteria in the gut digest hemicelluloses, increasing the number of beneficial bacteria in the gut and creating short chain fatty acids, which colon cells use as fuel and decrease cholesterol.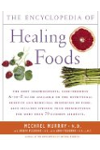 More About this Book
Encyclopedia of Healing Foods
From the bestselling authors of The Encyclopedia of Natural Medicine, the most comprehensive and practical guide available to the nutritional benefits and medicinal properties of virtually everything...
Continue Learning about Dietary Supplements