Button mushrooms generally look like tiny umbrellas, having a dense parasol-like cap attached to a stem that can be short and thick or thin and slightly curvy. There are three different types of button mushrooms -- white mushrooms, crimini mushrooms, and Portobello mushrooms -- all of which share the same scientific name, Agaricus bisporus. The white mushroom, the most common type, is the cream-colored mushroom that often adorns salads and is usually one to three inches across. It has a mild earthy flavor with a meaty texture. The crimini mushroom, which looks just like the button but is coffee colored, features a more distinctive and stronger flavor. The Portobello mushroom, whose large size, up to 8 inches across, and meaty flavor make it a wonderful vegetarian entre, is actually an overgrown crimini mushroom.

Button mushrooms are grown on straw-based compost in a controlled environment that is kept warm, moist, and dark, as well as free of other fungi that may parasitize the mushrooms.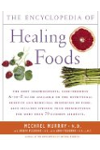 More About this Book
Encyclopedia of Healing Foods
From the bestselling authors of The Encyclopedia of Natural Medicine, the most comprehensive and practical guide available to the nutritional benefits and medicinal properties of virtually everything...
Continue Learning about Dietary Supplements