When you're pregnant, you need to be extra cautious about taking supplements. You should definitely not take regular vitamins. Instead, you should take special prenatal vitamins, which contain smaller doses. Be sure these contain 400 to 800 micrograms of folic acid, which is essential for the health of your baby. In fact, you already need that much folic acid very early in your pregnancy, when you might not even know that you've conceived. So if there's any chance at all that you could become pregnant, be careful to get that much folic acid every day just in case. Check that your prenatal vitamin contains at least 30 milligrams of iron, as well, which you and your baby need during pregnancy. Also, if you're a vegetarian or vegan, consult with your doctor about possibly taking vitamin B12 supplements.

No one knows for sure if other dietary supplements are safe when you're pregnant, so it's best not to take any except on the advice of your doctor.

Besides a prenatal vitamin, you should take:
Lycopene - ten tablespoons of tomato sauce a week (400 mcg) should do it.
Lutein - a leafy green vegetable a day (40 mcg) should do it.
Quercitin - hefty portions of onion, garlic, celery, or lemon juice in addition to the above at least once a day should do it.
DHA Omega-3 - A minimum of 200 to 300 mg per day (and recent research indicates that more may be even better -- we like 600 to 900 mg a day) through fish, fortified foods or supplements. More and more prenatal vitamins are including this important nutrient, but double check to make sure yours does. If it doesn't, DHA supplements -- either standard or especially targeted to pregnant women -- are available at most major retailers.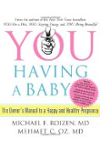 Continue Learning about Dietary Supplements