Handle Jerusalem artichokes with care, as they bruise easily. Raw Jerusalem artichokes are best stored in the vegetable crisper of the refrigerator, wrapped in paper towels to absorb humidity and sealed in a plastic bag. Their sweetness is known to increase when they are refrigerated after harvesting, so refrigerate them for a day or two before consuming. Depending upon how long they have been sitting at the market, raw Jerusalem artichokes can be stored from one to three weeks but, for maximum flavor and nutrition, are best eaten within one week. After that, they may begin to wither. Cooked Jerusalem artichokes should be refrigerated and consumed within two days. Canning and freezing are not recommended due to discoloration and deterioration of texture.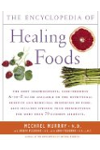 More About this Book
Encyclopedia of Healing Foods
From the bestselling authors of The Encyclopedia of Natural Medicine, the most comprehensive and practical guide available to the nutritional benefits and medicinal properties of virtually everything...
Continue Learning about Dietary Supplements