Chocolate can produce a stimulant effect and lead to feelings of nervousness and anxiety in some people. It is also a common food allergen. Chocolate, along with red wines and aged cheeses, has been linked with nervous tension as well as migraine headaches. All of these foods contain compounds known as vasoactive amines, which can dilate brain vessels, triggering headaches in susceptible individuals.

Since chocolate contains oxalic acid, a compound that can bind to calcium in the urinary tract to form kidney stones, dark chocolate should be avoided by individuals prone to kidney stones. According to a study conducted in Brazil, while consumption of dark chocolate caused a 20 percent increase in urinary oxalate excretion, no such increase was observed in the group receiving milk chocolate, suggesting that as long as enough calcium is also present, it will bind to oxalates in the gut, preventing the formation of kidney stones.

Chocolate is a food high in arginine, an amino acid required by the herpes virus to replicate. Chocolate and other arginine-rich foods should be avoided by those with active and frequently recurring herpes infections. Chocolate does not contain goitrogens or purines.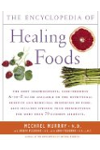 More About this Book
Encyclopedia of Healing Foods
From the bestselling authors of The Encyclopedia of Natural Medicine, the most comprehensive and practical guide available to the nutritional benefits and medicinal properties of virtually everything...
Continue Learning about Dietary Supplements
Whether you're visiting the drug store, grocery or natural food shop you'll likely find an aisle where there are jars and bottles of things for you to put in your body that are neither foods nor medicines. Ranging from vitamins an...
d minerals to fiber and herbal remedies, these supplements are not regulated in the same way as either food or medicine. Some of them are backed by solid research, others are folk remedies or proprietary cures. If your diet does not include enough of certain vitamins or minerals, a supplement may be a good idea. Natural treatment for conditions like constipation may be effective. But because these substances are unregulated, it is always a good idea to educate yourself about the products and to use common sense when taking them. This is even more true if you are pregnant or taking a medicine that may be affected by supplements.
More