Rice is one of the safest foods available. The hypoallergenic (low-allergy) nature of whole grain, organic brown rice makes it a commonly recommended grain alternative. Rice is also not a food that is commonly contaminated by pesticides. Brown rice does contain moderate amounts of oxalate, but white rice does not, as the oxalate is contained in the bran of the rice. Individuals with a history of calcium oxalate-containing kidney stones should limit their consumption of brown rice.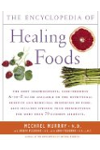 More About this Book
Encyclopedia of Healing Foods
From the bestselling authors of The Encyclopedia of Natural Medicine, the most comprehensive and practical guide available to the nutritional benefits and medicinal properties of virtually everything...
Continue Learning about Dietary Supplements