Since the majority of carbohydrate in Jerusalem artichoke is inulin, these tubers may, like beans, cause flatulence in some people, so try them in small amounts initially. For those sensitive to gas-producing foods, a good deal of the inulin Jerusalem artichokes contain can be leached out by either boiling or freezing the tubers before cooking. Also, those who suffer from allergies to daisies or other members of the Compositae family may wish to avoid Jerusalem artichokes. There has been one unusual case of an allergic reaction involving swelling and breathing difficulties linked to inulin.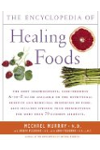 More About this Book
Encyclopedia of Healing Foods
From the bestselling authors of The Encyclopedia of Natural Medicine, the most comprehensive and practical guide available to the nutritional benefits and medicinal properties of virtually everything...
Continue Learning about Dietary Supplements