Keep in mind that in order to represent itself truly as pharmaceutical-grade, a fish oil product must have the following characteristics:

It must be manufactured in a certified Good Manufacturing Practices (GMP) facility approved for pharmaceutical products. It must be manufactured according to pharmaceutical standards, including quality control to ensure that the product is virtually free from lipid peroxides, heavy metals, environmental contaminants, and other harmful compounds. It must provide at least a 60 percent concentration of the most active long-chain omega-3 fatty acids (EPA and DHA).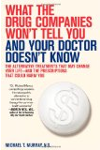 Continue Learning about Dietary Supplements
Whether you're visiting the drug store, grocery or natural food shop you'll likely find an aisle where there are jars and bottles of things for you to put in your body that are neither foods nor medicines. Ranging from vitamins an...
d minerals to fiber and herbal remedies, these supplements are not regulated in the same way as either food or medicine. Some of them are backed by solid research, others are folk remedies or proprietary cures. If your diet does not include enough of certain vitamins or minerals, a supplement may be a good idea. Natural treatment for conditions like constipation may be effective. But because these substances are unregulated, it is always a good idea to educate yourself about the products and to use common sense when taking them. This is even more true if you are pregnant or taking a medicine that may be affected by supplements.
More