Sea vegetables offer the broadest range of minerals of any food, containing virtually all the minerals found in the ocean-the same minerals that are found in human blood. Sea vegetables are an excellent source of calcium, iodine (up to 1,500 to 8,000 parts per million [ppm] dry weight for brown seaweeds), and sodium, a very good source of folic acid and magnesium, and a good source of iron, potassium, riboflavin, and pantothenic acid. In addition, sea vegetables contain good amounts of lignans, which are plant compounds with cancer-protective properties, and fucans, which can reduce the body's inflammatory response.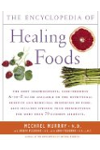 More About this Book
Encyclopedia of Healing Foods
From the bestselling authors of The Encyclopedia of Natural Medicine, the most comprehensive and practical guide available to the nutritional benefits and medicinal properties of virtually everything... Continue Learning about Dietary Supplements