Several studies have suggested that the consumption of high levels of cultured milk products, such as yogurt and buttermilk, may reduce the risk of colon cancer. The anticancer effects of these foods extend well beyond the colon, however. Various probity species have demonstrated the immune-enhancing and antitumor effects, but they also play a critical role in the detoxification of many cancer-causing substances, including hormones, meat carcinogens, and environmental toxins.

One of the key ways in which the body gets rid of "bad" substances, such as excess estrogen and fat-soluble toxins, is by attaching them to a molecule called glucuronic acid and then excreting this complex in the bile. However, the bond between the "bad" molecule and its escort can be broken by glucuronidase, an enzyme secreted by bacteria. Excess glucuronidase activity means more of the "bad" molecules are present in the body. This, in turn, is associated with an increased cancer risk, particularly the risk of estrogen-dependent breast cancer. Glucuronidase activity is higher in people who eat a diet high in fat and low in fiber. The level of glucuronidase activity may be one of the key underlying factors explaining why certain dietary factors cause breast cancer and why other dietary factors are preventive. The activity of harmful bacterial enzymes can be reduced by making sure the digestive system maintains the proper balance of bacterial flora, especially the health promoting lactic acid bacteria found in yogurt.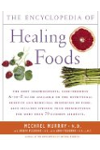 More About this Book
Encyclopedia of Healing Foods
From the bestselling authors of The Encyclopedia of Natural Medicine, the most comprehensive and practical guide available to the nutritional benefits and medicinal properties of virtually everything...
Continue Learning about Dietary Supplements