Products containing hydrogenated coconut oil should be avoided since consumption of hydrogenated coconut oil has been shown to cause a significant increase in blood cholesterol levels, thus increasing the risk of cardiovascular disease. When purchasing shredded coconut, read labels carefully and avoid products sweetened with sugar and/or preserved with propylene glycol, a chemical used in antifreeze. Coconut contains small amounts of oxalate. Individuals with a history of oxalate-containing kidney stones should avoid over-consuming this food.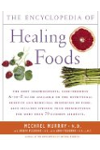 More About this Book
Encyclopedia of Healing Foods
From the bestselling authors of The Encyclopedia of Natural Medicine, the most comprehensive and practical guide available to the nutritional benefits and medicinal properties of virtually everything...
Continue Learning about Dietary Supplements