Honey, particularly darker honey, such as buckwheat honey, is a rich source of phenolic compounds, such as flavonoids, that exert significant antioxidant activity. A recent human trial showed that daily consumption of honey actually improves blood antioxidant levels and helps prevent lipid peroxidation. Lipid peroxidation, the damaging of lipids (such as cholesterol) by free radicals is central to the initiation and progression of atherosclerosis. Honey's ability to prevent lipid peroxidation may translate into a protective effect against atherosclerosis, since oxidized cholesterol is a well-known risk factor for this cardiovascular disease. In one human trial, twenty-five men aged 18 to 68 years drank a mixture equivalent to about 4 tablespoons of honey in a glass of water every day for a period of five weeks. The honey, which had antioxidant levels similar to those in apples, bananas, oranges, and strawberries, was shown to significantly improve blood antioxidant levels in all the subjects.

Earlier studies conducted by Dr. Nicki Engeseth, of the University of Illinois at Urbana-Champaign, Illinois, determined the antioxidant capacity of buckwheat, Hawaiian Christmas berry, tupelo, soybean, clover, fireweed, and acacia honeys. Using the test that is the gold standard for such research -- the oxygen radical absorbance capacity (ORAC) assay -- Engeseth found that the darkest-colored honeys, such as buckwheat honey, have the highest ORAC values, which are related to the amount of phenolic compounds they contain. The human trial, also led by Engeseth, showed that the higher a honey's ORAC activity, the better able it was to inhibit lipoprotein (cholesterol) oxidation. Engeseth's research suggests that honey could be used as a healthy alternative to sugar and serve as a source of dietary antioxidants in many products.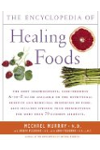 More About this Book
Encyclopedia of Healing Foods
From the bestselling authors of The Encyclopedia of Natural Medicine, the most comprehensive and practical guide available to the nutritional benefits and medicinal properties of virtually everything...
Continue Learning about Dietary Supplements
Whether you're visiting the drug store, grocery or natural food shop you'll likely find an aisle where there are jars and bottles of things for you to put in your body that are neither foods nor medicines. Ranging from vitamins an...
d minerals to fiber and herbal remedies, these supplements are not regulated in the same way as either food or medicine. Some of them are backed by solid research, others are folk remedies or proprietary cures. If your diet does not include enough of certain vitamins or minerals, a supplement may be a good idea. Natural treatment for conditions like constipation may be effective. But because these substances are unregulated, it is always a good idea to educate yourself about the products and to use common sense when taking them. This is even more true if you are pregnant or taking a medicine that may be affected by supplements.
More