Food irradiation was approved in 1963 by the FDA to rid wheat and flour of insects and to control sprouting of potatoes. In 1983, the FDA approved irradiation of spices and seasonings, and in 1985, it approved irradiation to prevent trichinosis in pork. The following year, the approval was extended to fruits and vegetables. In 1990, the FDA approved irradiation of poultry to prevent Salmonella and other food borne bacterial pathogens. In December 1997, the agency approved its use for red meat to kill E. coli. Next on the list of foods approved for irradiation may be fish and shellfish, to kill Salmonella, Vibrio (the organism that causes cholera), and other bacteria.

While more than forty countries have approved food irradiation, it is an extremely controversial practice. On one end of the spectrum, proponents say that food irradiation is safe and, in fact, necessary to make the food supply safer. In addition to reducing the risk for food borne illness, food irradiation considerably reduces losses due to spoilage. On the other end of the spectrum, opponents are quick to point out the concern that irradiation produces altered food molecules, destroys most of the vitamins, and alters the fatty acid structures in food. Even though there is a worldwide standard for food irradiation safety that was accepted in 1963 by the Codex Alimentarius Commission, a joint body of the U.N. Food and Agriculture Organization and the World Health Organization, our feeling is that the research conducted so far on food irradiation is far from complete.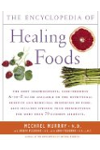 More About this Book
Encyclopedia of Healing Foods
From the bestselling authors of The Encyclopedia of Natural Medicine, the most comprehensive and practical guide available to the nutritional benefits and medicinal properties of virtually everything...
Continue Learning about Dietary Supplements
Whether you're visiting the drug store, grocery or natural food shop you'll likely find an aisle where there are jars and bottles of things for you to put in your body that are neither foods nor medicines. Ranging from vitamins an...
d minerals to fiber and herbal remedies, these supplements are not regulated in the same way as either food or medicine. Some of them are backed by solid research, others are folk remedies or proprietary cures. If your diet does not include enough of certain vitamins or minerals, a supplement may be a good idea. Natural treatment for conditions like constipation may be effective. But because these substances are unregulated, it is always a good idea to educate yourself about the products and to use common sense when taking them. This is even more true if you are pregnant or taking a medicine that may be affected by supplements.
More