Found both prepackaged and in bulk, whole-wheat products are freshest when bought from secure covered bins in a store with high turnover. Any evidence of moisture is a reason not to purchase. Sealed containers and vacuum packaging often ensure a fresher product as well. Forms of whole wheat include wheat bran, wheat germ, wheat berries, whole-wheat couscous, bulgur wheat, cracked wheat, and unbleached whole-wheat flour.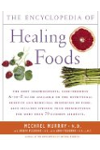 More About this Book
Encyclopedia of Healing Foods
From the bestselling authors of The Encyclopedia of Natural Medicine, the most comprehensive and practical guide available to the nutritional benefits and medicinal properties of virtually everything...
Continue Learning about Dietary Supplements