In certain types of arthritis, such as rheumatoid arthritis and Raynaud's phenomenon, fish oil supplements have been shown to reduce symptoms to an extent similar to non-steroidal anti-inflammatory drugs (NSAIDs), but without their side effects. These results may or may not be generalized to osteoarthritis, but it would seem reasonable that they would help the inflammation of osteoarthritis, as well as that of other inflammatory joint conditions.
Research also tends to indicate that fish oil supplements help with a variety of other ailments, including decreasing the risk of heart disease, cancer, diabetes and depression.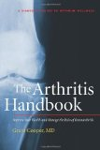 Fish oil supplements, especially DHA (you can get it from algae if you do not like fish oils), seem to directly improve osteoarthritis symptoms, but more data is needed for us to be absolutely sure. But since it has so many benefits and no known side effects (save allergies or burping), we'd say try it and see if it works for you.
Now some claims that big doses of fish oil (omega-3 fatty acid, our favorite fat) help osteoarthritis are, well, fishy. (The ones about its heart and brain benefits are not!) No studies have been done to definitively show that fish oil helps arthritis symptoms. There is one clear way fish oil or DHA can help arthritis, though (at least indirectly). Eating a Mediterranean diet is a healthy way to maintain or reach an ideal weight. That's a big help for preventing arthritis and ensuring it doesn't get worse. The diet includes a lot of omega-3s nuts. Your joints, heart and brain will all thank you.
The omega-3 fatty acids in fish oil have been shown to reduce inflammation in the body and help prevent arthritis. The benefits from fish oil come primarily from two omega-3 fatty acids, eicosapentaenoic acid (EPA) and docosahexaenoic acid (DHA).
Talk to your doctor for more information about the benefits of consuming fish oil.
Fish oil supplements, which are excellent sources of omega-3 fatty acids, may help in reducing pain and inflammation of stiff joints in some people with arthritis—sometimes making drugs unnecessary. Fish oils are also obtained in the diet by eating fish like mackerel, salmon, herring and tuna.
Continue Learning about Dietary Supplements