Some companies are making different versions of foods that naturally contain probiotics. Many of these are worth exploring, especially if dietary preferences or intolerances restrict certain foods (such as dairy). But also be a knowledgeable consumer and be wary of marketing or food trends. For example, of the numerous yogurts being marketed for their probiotics, many contain higher than necessary (and higher than healthy) amounts of added sugar in the name of getting in probiotics. Yogurt comes from milk so it will naturally have milk sugar, but it doesn't need added sugar. Find out how many probiotics are in these specially created probiotic yogurts (many don't say on the label) as opposed to a regular yogurt as opposed to a frozen yogurt marketed for its probiotic content. Per serving, most of them are similar, so make your choice based on what your palate desires and skip the sugar-coated probiotic unless you were going for something sugar-coated anyway!

For those seeking to address health issues impacted by bacteria imbalance, a probiotic supplement will likely have the best therapeutic benefit in addition to dietary modifications. Supplements can guarantee that one gets a probiotic dosage sufficient to address symptoms. The necessary quantity ranges with the type and severity of the health issue.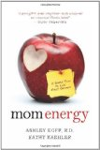 More About this Book
Mom Energy: A Simple Plan to Live Fully Charged
       From celebrated dietitian Ashley Koff and fitness trainer to the stars Kathy Kaehler comes Mom Energy, an exciting new way for moms to tap into their own natural and renewable sources of...
Continue Learning about Dietary Supplements
Whether you're visiting the drug store, grocery or natural food shop you'll likely find an aisle where there are jars and bottles of things for you to put in your body that are neither foods nor medicines. Ranging from vitamins an...
d minerals to fiber and herbal remedies, these supplements are not regulated in the same way as either food or medicine. Some of them are backed by solid research, others are folk remedies or proprietary cures. If your diet does not include enough of certain vitamins or minerals, a supplement may be a good idea. Natural treatment for conditions like constipation may be effective. But because these substances are unregulated, it is always a good idea to educate yourself about the products and to use common sense when taking them. This is even more true if you are pregnant or taking a medicine that may be affected by supplements.
More