You first need to ask yourself if you really need to be taking a supplement. You can generally achieve all of the health benefits promised by a supplement by simply eating a healthy balanced diet. For example; a protein shake label may tell you that you need to drink their shake after every work out to build muscle and improve performance and recovery time. While it is true that eating some protein after a workout is good for you, you probably do not need the amount they are suggesting in the supplement, plus you can easily meet the increased protein needs eating a healthy balanced diet. Not to mention save a lot of money! To determine your protein and calorie needs speak with a registered dietitian.
The FDA does not regulate supplements sold in the US to verify their safety or efficacy. Some supplements do not even contain the main ingredient(s) listed on the label. Not only can supplement labels be deceiving, but some supplements can cause harm. Many performance enhancing supplements are even banned by the NCAA and professional sports like the NBA and NFL.
Some tips for determining if a supplement is safe:
Do your homework. Before ingesting a supplement which may contain "organ tissues" or other strange ingredients, research the product. Find out if the supplement is safe and the claims are supported by evidenced based research.
When buying supplements only buy from reputable sources. The supplement manufacturer can put almost anything he wants in that bottle, if you are buying supplements at a grocery store/pharmacy speak with the pharmacist to help identify which supplement sources are the safest.
Only take the recommended dose. Again, more is not better especially when it comes to supplements. Too much may cause you harm.
Remember, before taking any supplement, even a multivitamin; speak with your dietitian and doctor, they can help determine your need for supplements and how much should be taken, if any at all.
Nutritional supplements are not regulated by the Food and Drug Administration (FDA), but most reputable supplement makers comply with certain health and safety standards. Be wary of megavitamins with high doses of a vitamin or mineral, which may be harmful or simply a waste of money. Also steer clear of supplements that make claims such as "quick cure" or "no side effects."

To make sure that a supplement meets certain standards, look for stamps of approval from these standardizing organizations: the USP (United States Pharmacopeia), the NSF or Consumerlab.com.
When you buy supplements, purchase from a large and reputable manufacturer. In addition, do not take any supplement without getting a recommendation from a reputable source. I also advise against taking any supplement "cocktail" sold at a health-food store, from a vitamin aisle at a store, or from a catalog (many are sent from Canada where the laws are even more lax than in the U.S.). These are mixtures of herbs, vitamins, and minerals but often don't even list what they contain, or how much of any one ingredient is included, as the companies that sell them aren't required by law to do so. You, the consumer, could be taking all kinds of things you don't want. Most of these wonder-pills are probably harmless, but we cannot say for sure.
Remember the movie Jerry Maguire? In one of the movie's most memorable scenes, Tom Cruise's character says to Renée Zellweger's character, "You complete me." That's exactly what you're going for when it comes to taking a multivitamin. Even if you eat well, you're bound to run low on a few nutrients due to the realities of life (hey, no one can eat perfectly all the time). So select a comprehensive and balanced formula containing all the major vitamins, minerals, and trace minerals; select an iron-free formula if you are postmenopausal. Look for high-quality, organic forms of the ingredients. For example, the fact that vitamin E works at the mitochondrial rather than cellular level, and does not work at the blood level, is proof that synthetic Vitamin E ("dl-alpha tocopherol") is an ineffective form; you'll want to take d-alpha tocopherol, which is vitamin E in its natural form. Ideally, go for gluten-free; and if you've got a history of digestive issues, try a food-based liquid vitamin to ensure bioavailability of nutrients and optimal absorption.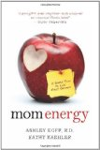 More About this Book
Mom Energy: A Simple Plan to Live Fully Charged
       From celebrated dietitian Ashley Koff and fitness trainer to the stars Kathy Kaehler comes Mom Energy, an exciting new way for moms to tap into their own natural and renewable sources of...
Continue Learning about Dietary Supplements