Cashew nuts can be purchased either from bulk bins or pre-packaged. Regardless of which type you buy, ensure that the store has a quick turnover of products to ensure freshness and flavor. If you select cashew nuts from bulk bins, ensure that the bin is covered and nuts look fresh and not shriveled.
Cashew nuts are generally available prepackaged, as well as in bulk. Just as with any other food you may purchase in the bulk section, make sure that the bins are covered and that the store has good product turnover so as to ensure maximum freshness. Whether you are purchasing cashew nuts in bulk or prepackaged, make sure that there is no evidence of moisture or insect damage and that the nuts are not shriveled. If it is possible to smell the cashew nuts, do so to ensure that they are not rancid.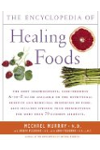 More About this Book
Encyclopedia of Healing Foods
From the bestselling authors of The Encyclopedia of Natural Medicine, the most comprehensive and practical guide available to the nutritional benefits and medicinal properties of virtually everything...
Continue Learning about Dietary Supplements