When selecting any nut, remember that nuts have the longest shelf life when they are still in their shells. If purchasing almonds in shells, look for shells that are not split, moldy, or stained. Shelled almonds that are stored in a hermetically sealed container will last longer than those sold in bulk bins, since they are less exposed to heat, air, and humidity. If purchasing almonds from bulk bins, make sure that the store has a quick turnover of inventory and that the bulk containers are sealed well to ensure maximum freshness. Look for almonds that are uniform in color and not limp or shriveled. In addition, smell the almonds. They should smell sweet and nutty; if their odor is sharp or bitter, they are rancid.

If you want almonds with a roasted flavor and texture, choose those that have been dry roasted, and not been cooked in oil like their roasted counterparts. Even when purchasing dry-roasted almonds, it is important to read the label to ensure that no additional ingredients, such as sugar, corn syrup, or preservatives, have been added.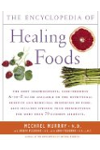 More About this Book
Encyclopedia of Healing Foods
From the bestselling authors of The Encyclopedia of Natural Medicine, the most comprehensive and practical guide available to the nutritional benefits and medicinal properties of virtually everything...
Continue Learning about Dietary Supplements
Whether you're visiting the drug store, grocery or natural food shop you'll likely find an aisle where there are jars and bottles of things for you to put in your body that are neither foods nor medicines. Ranging from vitamins an...
d minerals to fiber and herbal remedies, these supplements are not regulated in the same way as either food or medicine. Some of them are backed by solid research, others are folk remedies or proprietary cures. If your diet does not include enough of certain vitamins or minerals, a supplement may be a good idea. Natural treatment for conditions like constipation may be effective. But because these substances are unregulated, it is always a good idea to educate yourself about the products and to use common sense when taking them. This is even more true if you are pregnant or taking a medicine that may be affected by supplements.
More