With a lipid profile of approximately 20 percent saturated fat and 80 percent polyunsaturated and monounsaturated fats, oats have a slightly higher fat content than other grains and can go rancid more quickly, so buy small quantities at a time. They are available prepackaged, as well as in bulk. If you purchase already prepared oats, look at the ingredients list to ensure there is no salt, sugar, or other additives. If you buy oats in bulk, make sure that the bins are covered and that the store has a fast product turnover to ensure maximum freshness. Check the oats' aroma to make sure they are fresh. Fresh oats have a clean, sweet, or grassy smell, whereas spoiled oats have a sharper, unpleasant odor.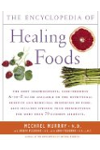 More About this Book
Encyclopedia of Healing Foods
From the bestselling authors of The Encyclopedia of Natural Medicine, the most comprehensive and practical guide available to the nutritional benefits and medicinal properties of virtually everything...
Continue Learning about Dietary Supplements