Real maple syrup has potassium, calcium, zinc and manganese as well as natural phenols that are considered to provide beneficial antioxidants. Other syrups have little nutrients and contain high fructose corn syrup, which your body likes to store as fat. Since maple syrup has beneficial nutrients and is a natural product, it should be chosen instead of the manufactured syrups. However, if you are a diabetic, check with a registered dietitian before adding it to your diet.
Maple syrup is a very good source of manganese, an essential cofactor in a number of enzymes important in energy production and antioxidant defenses. For example, the key oxidative enzyme superoxide dismutase, which disarms free radicals produced within the mitochondria (the energy production factories within our cells), requires manganese. One oz. (two tablespoons) of maple syrup supplies 37.7 percent of the daily value of this very important trace mineral. Maple syrup also has a good supply of zinc, which can help decrease progression of atherosclerosis, help with skin problems such as acne, support a healthy prostate, and keep the immune system healthier.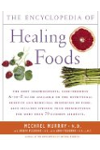 More About this Book
Encyclopedia of Healing Foods
From the bestselling authors of The Encyclopedia of Natural Medicine, the most comprehensive and practical guide available to the nutritional benefits and medicinal properties of virtually everything...
Continue Learning about Dietary Supplements