Both green and black teas are derived from the same plant, Camellia sinensis, a three-foot shrub that is shade grown, producing leaves that are 1 to 5 cm long. Four times as much black tea is produced and consumed as green tea each year, but green tea is healthier for you because it contains compounds called polyphenols that have high levels of therapeutic activity, including anticancer activity.

The difference between green and black teas results from the manufacturing process. To produce black tea, the leaves are allowed to oxidize. During oxidation, enzymes present in the tea convert polyphenols into substances with much less biological activity. In contrast, green tea is produced by lightly steaming the fresh-cut leaf. Steaming prevents the enzymes from converting polyphenols, so oxidation does not take place and the polyphenols remain intact. Oolong tea is partially oxidized. White tea is still green tea, but the new, unopened buds are picked and steamed or dried. The resulting tea is pale yellow and low in caffeine and tastes mild and slightly sweeter than green tea.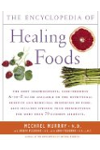 More About this Book
Encyclopedia of Healing Foods
From the bestselling authors of The Encyclopedia of Natural Medicine, the most comprehensive and practical guide available to the nutritional benefits and medicinal properties of virtually everything...
Continue Learning about Dietary Supplements